Drop Off and Pick Up Schedule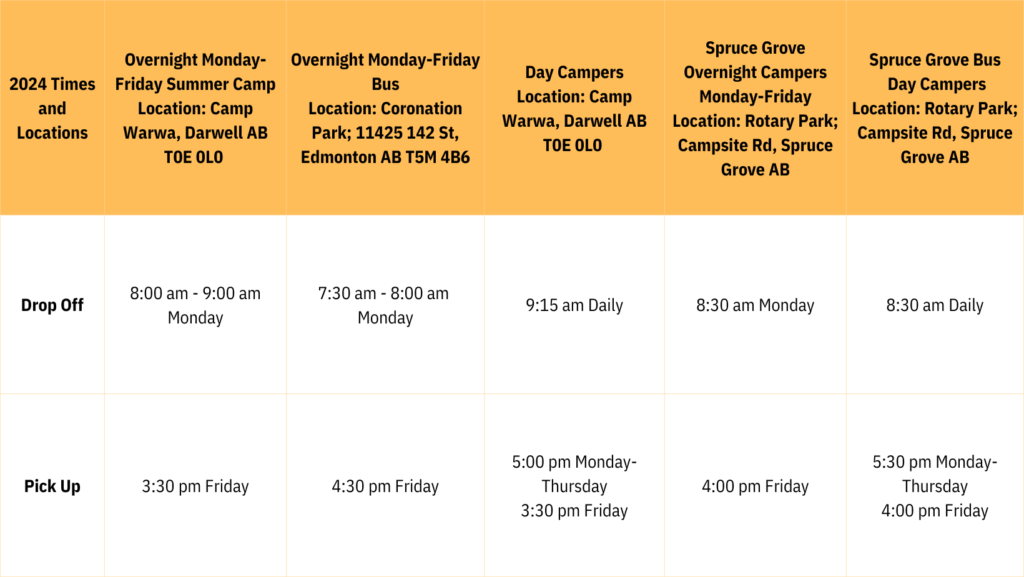 What will a typical day look like?
All of our days at Camp are filled with lots of fun activities including archery, climbing wall, and high ropes! Programs are different depending on the age and program of the campers, but most follow a similar daily schedule template. Click on the schedule below to see what a typical day looks like.
Cabin Activities
This is time throughout the day that cabins get to spend together doing fun activities and getting to know each other better. This includes all manner of programs such as wall climbing, archery, canoeing, slingshot, crafts, nature programs, orienteering, team giant swing, high ropes, zipline and more! Note that some programs such as wall climbing and archery are done by all campers, while others are age specific. See our list of Camp Programs for more details.
Meals
Three healthy, filling, and familiar meals per day are provided to overnight campers in addition to an afternoon and evening snack. Servings are hearty, and our food services staff are experienced in preparing meals in a camp setting.
Camp Warwa is a nut-free camp and can accommodate vegetarian, lactose-free and gluten-free diets. Warwa is not able to provide a vegan diet at this time. If your camper has any dietary needs, please let us know prior to their arrival at camp, so our cooks can plan ahead.
Note: This menu is a sample of some of the delicious meals we offer at camp! We have a rotating menu throughout the summer.
Bunkers Choice
In the afternoon campers have Bunker's Choice. This is a time when all campers get to choose from a variety of fun activities. They are different each day and often include fun favorites such as slip and slide, crafts, board games, soccer, forest exploring, reading time and more. Bunkers Choice is both playful and restful; some unstructured play time after a fun day full of programs.
Wide Game
Our wide games are unique and fun and are often a highlight of the week for many campers. These are played with the whole camp community. They can include fun twists on camp favorites like Capture the Flag, as well as sweeping adventures that take campers through a range of fun challenges. There may be costumes.

Campfire
Cookies, Campfire, Songs and Skits are what our evenings are all about. We end our days together around the campfire, having fun.
Fireside Chat
Each Cabin ends the day together talking about their day. Fireside Chat topics could include what were the best parts of your day, did you learn anything new, what challenged you!
Day Camp Programs
Our Day Camp programs are open for youth age Graduating Grades K-5. Our Day Camps are a great introduction to our programs and feature many activities. It's summer camp, but you get to sleep in your own bed each night! The Day Camp Program is for all genders. Check out our Dates & Availability page for the weekly options. Activities include archery, climbing wall, slingshot, nature programs, and other camp favourites. This camp runs from 9 am to 5 pm each day.
Day Campers will arrive after breakfast and leave before dinner.
Day Camp and Overnight Bussing From Spruce Grove! We are offering a daily bus pick up/drop off location at Rotary Centennial Park in Spruce Grove. Drop off time at the park will be at 8:30am each morning (Monday-Friday), with pickup at 5:30pm Monday-Thursdays. Please note that on Fridays, the pick-up time will be at 4pm. ID is required at pickup, so please have your information available. *$60.00 bus fee for Day Camp and $35 for Overnight Camp
Friendship Fund
One option to apply for Camp funding is with our Friendship fund by May 1st, 2024. Applying for the Friendship fund can happen when you register for camp.
Once you have registered in a camp on the website, there will be a spot to apply for the Friendship fund at Check out.
When you are filling out forms: please fill out the optional Subsidy form.
Add your Endorser's name and phone number. (An Endorser is someone like a teacher, doctor, dentist, social worker etc., who is not a family member who knows your family)
The registration page will prompt you to pay a 10% deposit as an option.
Camp Warwa will contact your endorser.
Our team will then contact you to know how much of a subsidy you will receive and if you need to pay a remainder.
Want to help support our Friendship Fund? Donate today and help give every child the summer camp experience!
Non-Binary & LGBTQ2S+ Campers
Camp Warwa believes that diversity and inclusion are essential qualities of a community. We are an organization that welcomes people from all manners of cultural backgrounds, genders, sexual orientations, and communities. Camp Warwa is a place where everyone is welcome, and an individual's gifts and life experiences are celebrated!
We talk openly with our campers about everyone's pronouns. Everyone's pronouns and names are respected.
All Gender Accommodation
Camp Warwa welcomes children and youth from all across the gender spectrum. Our goal is to ensure that every person who attends Camp is welcome, included and celebrated for who they are! For our Adventurer groups, we offer "male" cabins/tents, "female" cabins/tents, "co-ed" tents (one tent for males and one tent for females), and "all-gender" cabin options.
The All-Gender cabins have a private changing room. They are a good option for children who prefer to bunk with children of other genders, for children who want to bunk with a friend who is a different gender, or for campers who feel this group/week is the best fit for any reason. If you have a specific question or concern about discussing your child's bunk, please contact us at info@campwarwa.org.
Working towards Gender Neutral Bathrooms
At Camp Warwa, we are building a gender-neutral bathroom, as our bathrooms are currently gendered male and female. Campers are welcome to use the most comfortable bathroom and feel supported by their counsellors and fellow campers.
Parent Package
What to Pack?
Camp Warwa is dedicated to improving the lives of children through experiences in the outdoors. We strive to make every camper's time with us an unforgettable experience. At camp, each child will learn new skills, make new friendships, connect with nature and learn a bit about themselves. Please find below more information about camp and what your camper can expect from their time at camp. If at any time you need more information, please get in touch with us at: [email protected]
Camp Warwa is dedicated to improving the lives of children through experiences in the outdoors. We strive to make every camper's time with us an unforgettable experience. At camp, each child will learn new skills, make new friendships, connect with nature and learn a bit about themselves. Please find below more information about camp and what your camper can expect from their time at camp. If at any time you need more information, please get in touch with us at:  [email protected]